Benefits Of Digital Certificates
06 Oct 2023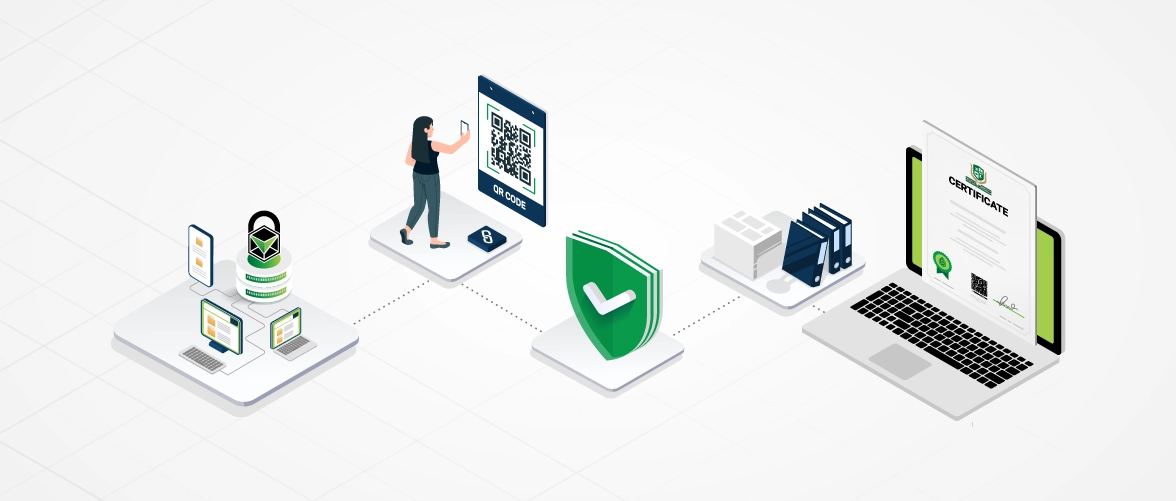 Benefits Of Digital Certificates





Data Security and Confidentiality Through Encryption








Authenticity And Identification Benefits








Reliability And Cost Effectiveness





With VeriDoc Digital Certificates, your institute can prevent data fraud and cyber attacks.
VeriDoc Digital Certificates Lets You Showcase Your Website's Information Through QR Code.
QR Code Embedded In The Digital Certificate Gives Authentic Information About The Certificate Issuing Authority, Thereby Leaving No Loop Holes For Certificate Fraud.
Today's digital certificates play a key role in shaping professionals in many fields. It is a fantastic way to demonstrate your expertise in a particular field and enhance your employment opportunities. It is now more important than ever to showcase your skills and expertise than your degree education. Using digital certificates to demonstrate your skills and expertise in the first place is the best way to save time and resources.
As with digital certificates, you have to attach the PDF in the email and the recruitment team can scan your certificates and pull out all the information for verification. Even you can attach all your digital certificates to professional sites like LinkedIn and get higher chances of recruitment from there.
Benefits Of Digital Certificates
The cybersecurity landscape continues to be dominated by digital certificates. The benefits of digital certificates are not limited to educational institutes; the receiver or students will also have great benefits from digital certificates. Having a digital certificate can provide you with the following benefits:
#1. Data Security, Confidentiality, and Authenticity Through Encryption
One of the most important roles that digital certificates play is the safeguarding of sensitive data. Digital certificates prevent information from being seen by those not authorized to see the information. As a result, individuals and businesses carrying large troves of data will benefit from having a digital certificate. Take the example of an SSL certificate that helps encrypt data between website servers and website browsers and thus ensures that attackers cannot intercept data belonging to web visitors.
Digital certificates also help to solve privacy and message confidentiality problems. They allow communicating parties to interact privately over a public network. Moreover, digital certificates help maintain data integrity by ensuring that the data in transit is not tampered with, intentionally or unintentionally.
#2. Authenticity or Identification Benefits
In an age of widespread data breaches and surging cyberattacks, digital certificates have been on the frontline in the war against fraudsters and illegitimate websites masquerading as genuine ones. They identify all parties in the communication line and prove that websites and servers are really what they say they are. As you know, certificate authorities often research a business or website before issuing a digital certificate. All the relevant information about the website will be included in the certificate details. It is this information that helps to establish the authenticity of the Institute.
#3. Reliability and Cost-effectiveness
The responsibility of issuing digital certificates lies in the hands of trusted certificate authorities. For the CA to issue one, it will need to rigorously vet an organization, meaning a hacker cannot trick organizations that use the certificates. Digital certificates continue to offer the required encryption strengths at a cost-effective price. It should not surprise you to learn that most digital certificates come at a price as cheap as $ 100 or less annually.
In Conclusion
VeriDoc Certificates are all set to make your institute perform better in this highly competitive era. Blockchain technology is now a proven technology, and to be ahead of the crowd, the earlier you integrate your important certificates with this technology, the more secure you will be in the future. VeriDoc Certificates have made it an easy process for all educational institutes or other institutes that provide certifications. You just have to buy a package and tell the VeriDoc Certificate's team about your template design; that's it. Then as per the course name, year, duration and student's information, you can create the digital certificates in no time.