Benefits of SaaS models
06 Oct 2023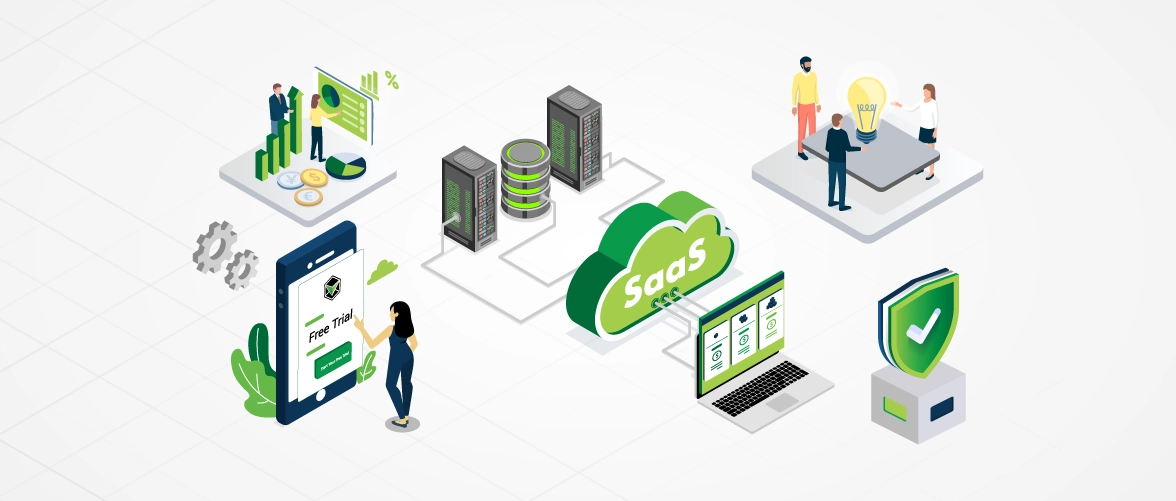 Today, the Software as a Service (SaaS) business model is an attractive alternative to traditional software installation in multiple organisations across various global sectors. Things have definitely changed about the concept and meaning of Software as a service (SaaS) since it was first used in 2005. Understanding this aspect of a growing market is critical to ensuring business growth, particularly at a time when cloud computing is expanding at a faster rate than ever before.
To fully understand the benefits of the SaaS model, let us first understand the proper definition of SaaS.
Understanding the SaaS model
The SaaS model is a business model in which a company profits by providing clients with cloud-based software. Customers can access SaaS applications from any device or location via an internet network or remotely, which can provide more benefits than traditional software business models.
In these cases, the software provider is responsible for developing, installing, configuring, and updating the app. The SaaS model includes the ability for customers to rent software on a subscription basis, making monthly or yearly payments on the product over time rather than purchasing it completely.
Now let's dive right into each direct benefit you'll undoubtedly appreciate once you make the switch to SaaS.
Cost Effectiveness
End customers pay a monthly subscription in the Software as a Service business model. They avoid the time-consuming and costly process of application implementation. Furthermore, Software as a Service pricing models can be based on the level of use and include service and support costs, removing the need for businesses to assign these tasks to their IT department.
Access to Advanced Applications
Customers have access to advanced applications without the need to install, update, or maintain them.
Better Time Management
SaaS applications are immediately available. Furthermore, they are designed for usability, allowing users to focus on the task at hand rather than struggling to understand and use the application.
Always Updated
End users need not be concerned about updates or legacy software. They are included by default in Software as a Service solution.
Accessibility
As all data is stored in the cloud, employees can access the applications from anywhere and on any device that is connected to the internet. This also means that data loss will not occur in the event of any type of hardware failure.
Availability of Free Trials
Potential buyers (mostly business owners or employers) frequently appreciate the ability to test a product before investing resources in it because it reduces risk and maximises return on investment. Customers can determine whether a product is right for them by using a free trial. SaaS companies that provide this benefit can generate more leads and grow their customer base.
Greater Security
Customers can use SaaS models to store and back up data on internet servers and access that data from various devices. Cloud technology advancements can provide clients with high-quality data security solutions, such as multi-factor authentication and anti-phishing initiatives.
Better Engagement
Using a SaaS business model can make products and services more affordable and accessible, particularly to small and medium-sized businesses, while also increasing customer engagement and revenue levels.
Customers frequently want to engage more with cloud-based tools that they can access from anywhere. Employees can use these software remotely and independently, and they allow for real-time collaboration.
Today, many industries are preferring to use SaaS-based models in their workflow, thanks to the attractive benefits and wide range of products on offer. Some examples of popular SaaS products include messaging applications, video conference programs, marketing tools, customer relationship management systems, file storage resources, HR resources, and even music streaming services.
In Conclusion,
SaaS and cloud solutions have a promising future because they are a great development for many businesses. SaaS solutions enable modern businesses and organisations to focus on increasing sales and improving business-customer relationships. Furthermore, most organisations have very limited time, resources, or expertise. Costs, security, and usability of SaaS are thus huge advantages for them.