Unmissable Blockchain Predictions This New Year
30 Oct 2023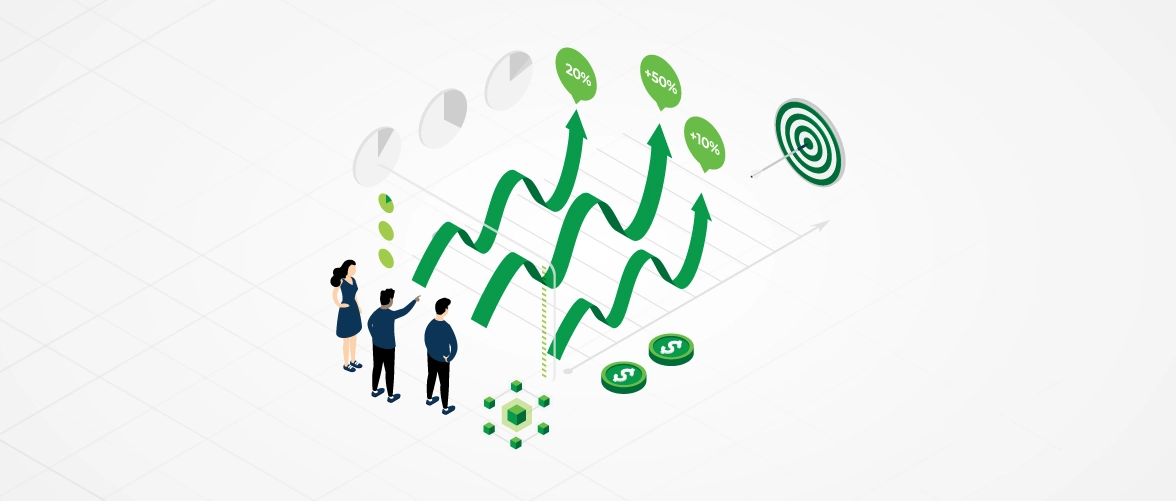 Blockchain technology and cryptocurrencies are interconnected, with blockchain serving as a peer-to-peer financial transaction model. A more in-depth examination of blockchain predictions and relevant industry trends in 2023 is required to determine how blockchain technology and its applications will develop over time.
Knowing the major and upcoming trends in blockchain technology is crucial in gaining a clear picture of how blockchain will evolve in 2023. The majority of the focus on blockchain technology is on cryptocurrencies, with little consideration given to its other applications. Many other processes, operations, and systems in various industries have been transformed by blockchain. Furthermore, blockchain has provided a significantly more attractive proposition for governance than traditional organisations and agencies.
Let us find out the answer to where blockchain might be headed in 2023 with the following predictions.
Ethereum is growing rapidly.
Coming decades, the year 2022 will be prominent in discussions about blockchain technology. In September 2022, the Ethereum blockchain completed successfully "The Merge" by switching to the Proof of Stake consensus protocol. As of right now, Ethereum remains one of the most popular layers 1 blockchain networks. Ethereum has made numerous protocol-level advancements, resulting in increased innovation, capital, user count, and development initiatives. With the increased development and adoption of Ethereum, it is most likely to extend its golden run in 2023.
The EIP-4844 update is another significant upgrade planned for the Ethereum blockchain in 2023. The EIP-4844 upgrade could make proto-danksharding more viable as a project to enable full sharding and comprehensive scalability of layer 2 blockchains. Such enhancements could lay the groundwork for faster creation of complete sharding as well as maximum Ethereum scalability.
Web3 and Metaverse Predominance
With advancements in web3 and metaverse technology, the big leap for blockchain into the future could occur in 2023. Blockchain technology development would now focus on innovative advancements in web3 and the metaverse. Web3 and metaverse could define the future of blockchain 2023 and how trends in blockchain technology will dominate future developments. With the exposure of imperfections in centralised financial service systems in 2008, the push for web3 has received attention.
Web3 is dedicated to the creation of an open, intelligent, and autonomous internet based on decentralised protocols. The year 2023 will see the rise of web3-centric blockchain networks. Web3 blockchains would be distinguished by characteristics such as seamless integration and censorship resistance in peer-to-peer file storage.
The metaverse is another significant highlight in blockchain technology's future predictions. The metaverse aims to bridge the gap between the physical and virtual worlds by providing a new and immersive internet experience. Along with blockchains, Metaverse would use other technologies such as AI, AR & VR, cloud computing, and IoT to provide natural, seamless experiences with metaverse applications.
NFTs will become more useful & varied.
In 2023, utility-based NFT applications will take center stage. Non-fungible tokens have been proposed as a means of representing digital artwork. However, learning the answers to what is the future of blockchain technology would point to more personalised, commercial, and sophisticated NFT use cases. For the past few years, PFP projects and zero-utility artwork have been prominent highlights in the world of NFTs. The use of non-fungible tokens will no longer be limited to digital art, as users may witness many new applications for non-fungible tokens.
Blockchain in Government Organizations
The integration of blockchain technology in government agencies is the next top prediction for the future of blockchain technology in 2023. For government officials, distributed ledger technology offers numerous value-based benefits. One of the most difficult issues for government agencies is the need to manage massive amounts of data. Blockchain technologies could enable better and more innovative approaches to data management, potentially increasing government agency productivity.
To summarise
The rising prominence of web3 is one of the most significant highlights for the future of the blockchain industry. Web3 applications, such as the metaverse, have the potential to set new precedents for redefining users' digital experiences. Existing blockchain applications in NFTs, on the other hand, would find new avenues for development with utility-based NFTs. Furthermore, blockchain support for social media networks and IoT security could work particularly well for 2023.